ELLEEBANA LASH LIFT TRAINING COURSE
Course Overview:
To find your closest Elleebana Lash Lift Educator, please click the link. We reserve the right to withhold your certificate until competency has been achieved.
Welcome to the world of multi award winning Elleebana Lash Lift education. Elleebana is the world's most popular lash lift and lamination system, globally recognized and trusted by leading experts in over 60 countries. Our education program has been crafted by our award winning team, bringing you over 20 years combined experience in the lash and brow industry. Otto Mitter, managing director of Elleebana is a regular speaker and competition judge on the global circuit for eyelash extensions and lift/lamination competitions, conferences and exhibitions. At Elleebana we thrive on sharing our experience and expertise with our students and over the years Elleebana has helped to create the next generation of beauty influencers and leaders in the lash industry.
This course arms you with the detailed concept of lash lifting as well as the hidden tips to mastering your technique to achieve the perfect lift every time. Our theory session commences with product knowledge and understanding of the delicate eye area that you are working with, contraindications and how to consult for this treatment.  The detailed explanation of the science of lash lifting is a key component to understanding the treatment and how to achieve optimal results.
You are guided through the cost and income potential of lash lifting to build your marketability. Our hand selected trainer will then demonstrate to you a lash lift in detail – we take our time walking through the treatment step by step and showcasing the common mistakes made and how to correct these errors to ensure your results are flawless and to build your confidence.
You will then work on a model under the careful guidance and instruction of our trainer paying close attention to the key elements of lash lifting. No longer can you expect a one day class with Elleebana as your course, knowledge retention and applying your new found skills will continue through your online component of this Elleebana 2020 Evolved training program.  The online component will include a case study submission of before and after images for assessment after your training date to further ensure you have been able to retain and apply your new found skills.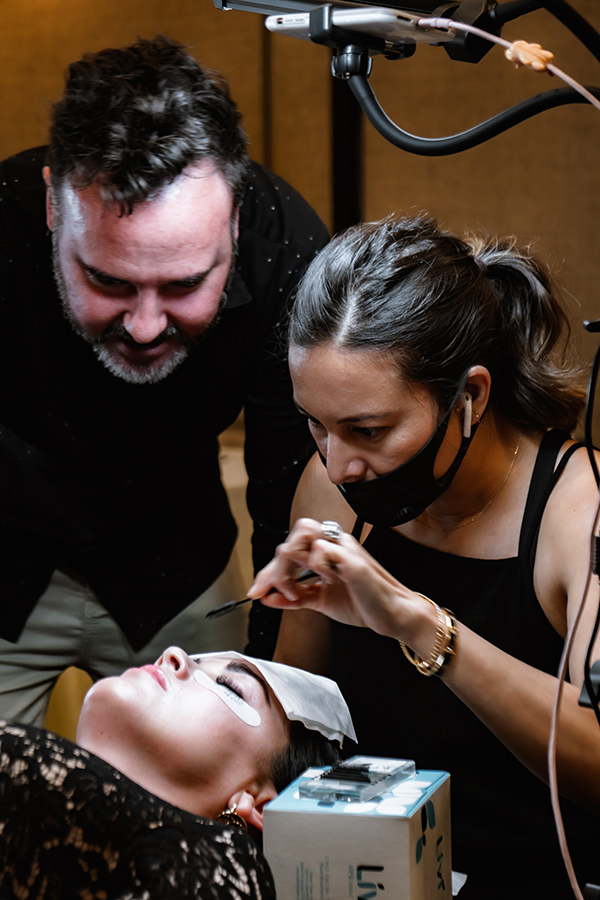 Topics we cover:
• Science of lash lifting, active ingredients, and the ingredient trends we are seeing
• Exposure to the various adhesives available
• Storage guidance and tips
• Eye and Eyelash anatomy and structure
• Business, room set up and cleanliness
• Client/technician wellbeing and self-care
• Comprehensive procedure knowledge on the Elleebana method and detailed instructions on mastering the technique of Lash Lift
• Health, safety and sanitation – for your clients and for yourself
• Pre-procedure preparations and contra-indications
• Product information and usage and storage guides for the products
• Consultation, reactions and the importance of indemnity and legal requirements such as insurance
• Patch testing and mastering the art of eyelash tinting
• Eye shapes and face considerations and key tips to craft the perfect lift for your client
• Cost of treatment and income potential
• Elleebana facial Acupressure for a new approach to client treatments
• Frequently asked questions
• Reversed and relaxed treatments as well as lower lash care
• Homecare advise and recommended aftercare
• Taking a good before and after images
• Frequently asked questions and trainers tips/important notes
• Case Study submissions explained
• Competitions for building your business
• Criteria Checklist form
Course price:
$550
A non-refundable booking fee applies and is included in the above mentioned price and full payment is required to secure your position at a class. Your trainer will advise the cost of the booking fee.
Course inclusions:
A student's lash lifting kit valued at $175 with a minimum of 15 applications. You also receive a pack of eye pads, a pack of micro brushes, Elleeplex after care, an isolator tool, instructional copyrighted manual, criteria checklist, student's exam, access to promotional flyers file, promotional images and a posters for printing and a certificate upon submission of a minimum of 5 before and after images that are successful.
Important times:
Our lash lifting class runs for 7 hours on your first day however your course continues after you leave with ongoing support from your trainer as you work through your case study submissions for assessment.. You will have three months to submit your before and after images for assessment. We have a lot to cover and we are extremely passionate about you getting the most from this class so please be prepared.
Model required:
Depending on the class size you might be required to provide a model. If the class has even numbers of attendees, then the class can work on each other however this will be determined by your trainer and the venue booking the workshop. If you are required to have the treatment performed on you, please arrive with no eye makeup and ensure you are not contraindicated for this treatment.
Important notes:
We offer this course with over 25 years' experience offering lash and brow services. The Elleebana lash lift treatment is one of the fastest on the market and so if you have previously trained with another brand you might find some similarities between the treatment but we ask that you are willing to re-learn what you might know as our comprehensive Lash Lifting Evolved 2020 Class is assured to offer more understanding of lash lifting treatments than ever before. We don't leave you to your own devices and guide you through your treatment carefully perfecting your techniques and understanding of the treatment – you are welcome to call and contact us after your day of training with any questions that you might have, feedback of any kind and the correspondence continues as you submit your before and after images for assessment.
Please Note:
1. A non-refundable booking fee applies for each individual cancellation. Full payment is required to secure a student's position at a course.
2. We reserve the right to withhold issuing of a certificate until competency has been achieved.
3. All trainers in the United States are not direct employees of Elleebana. When you purchase a course from a trainer please ensure you read and understand and agree to all of their terms, conditions and refund policies. All approved and certified Elleebana Trainers are listed on our website – Click Here
*this price is quoted for the first attendee only and travel/additional attendee cost apply
**Price is subject to change