Elleebana Brow Henna Course
Course Overview:
To find your closest Elleebana Brow Henna Educator, please click the link. We reserve the right to withhold your certificate until competency has been achieved.
The Elleebana Brow Henna Course has been developed as an introduction to color craft and brow allowing you to create fuller, thicker and more defined brows for your clients.
Requiring no Hydrogen Peroxide and Ammonia free, Elleebana's Brow Henna has been carefully developed to include unique ingredients such as Indigo Powder, Indian Gooseberry and Acacia Concinna for added luster and shine and to encourage healthy brow growth.
Our course is a full-day course, loaded with comprehensive theory providing myth-busting information and in-depth detail of the industry's hottest topics together and exclusive Elleebana techniques not readily showcased in other training.
During your two (2) guided brow henna applications you will be assessed on your client's skin tone assessments, hair color assessments and shape perfecting skills.
This application of your understanding to the practical side is a key element in our assessment phase to ensure you leave with the best possible knowledge retention and ability to boost your brow business like never before.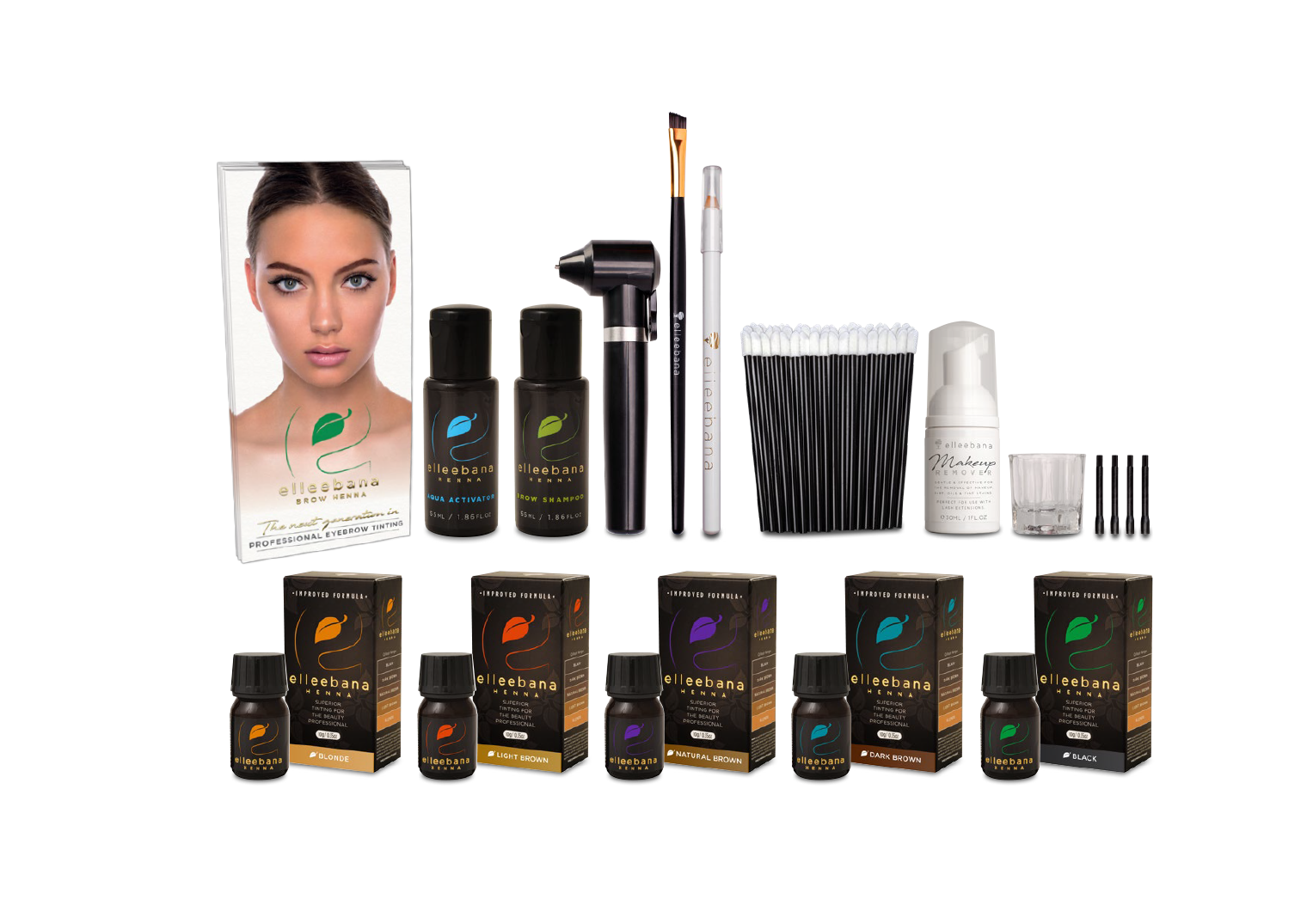 Topics we cover:
• What is Henna
• How henna is different to tinting
• What is the profitability and how you should price your treatments
• Ingredients knowledge
• Storage and care
• Skin Anatomy and how the skin is relevant to Brow Henna
• Hair Structure
• Hygiene and Sanitation
• Contraindications
• Indemnity forms and patch testing
• Color mixing and processing
• Skin tone and hair assessments (both theory and practical)
• Color customizing
• Face and Brow Shape as well as key measurements to assist in understanding what's right for your client
• Brow mapping
• Procedures and aftercare advice
• Criteria checklists and sign offs for your certificate issue (students will be receiving their certificate on the day of training)
Course price:
$550
* **
A non-refundable booking fee applies and is included in the above-mentioned price and full payment is required to secure your position at a class. Your trainer will advise the cost of the booking fee.
Course Inclusions:
This course delivers an array of new information and detailed content for achieving amazing results with the addition of promotional digital DL flyers / After-care flyers to help promote the service.
Students will also receive:
• A full-sized kit valued at $260 – a total of 500 applications (5 colors with approximately 100 applications each)
• Elleebana Brow Measuring tape (25 pack) and a set of Elleebana Precision Brow Pencils (1 x Light Ash Brown, 1 x Dark Ash Brown, 1 x Deep Warm Brown).
• The comprehensive Elleebana Brow Henna training manual.
• The Salon's details listed on our Salon Finder page on our website as a salon who performs Elleebana Brow Henna treatments to help direct customers your way.
• Access to our Trainers for continued support and guidance post course completion.
• Elleebana Brow Henna Certificate of Completion.
Important times:
Our Elleebana Brow Henna Course runs for 6 hours. Your trainer will advise you of your start time.
Model required:
Students are required to provide two (2) models. Your trainer will advise you of model times.
Important notes:
Elleebana offers this course with over 25 years' experience developing lash and brow services. Elleebana Brow Henna delivers the ultimate solution containing natural ingredients for tinting of eyebrows and skin with tattoo effect. The luxurious palette of natural shades can be used individually or mixed to create the ultimate brow color for your client. Easy to use, simply mix Elleebana Brow Henna with our formulated Aqua to create the complimentary shade with no need for Hydrogen Peroxide. Elleebana's innovative formula helps to strengthen hair, restore growth and the natural shape of the eyebrows. We don't leave you to your own devices and are available to guide you through your treatment carefully, being sure to perfect your techniques and understanding – you are welcome to call and contact us after your day of training with any questions that you might have or feedback of any kind.
Please Note:
1. A non-refundable booking fee applies for each individual cancellation. Full payment is required to secure a student's position at a course.
2. We reserve the right to withhold issuing of a certificate until competency has been achieved.
3. All Trainers in the United States are not direct employees of Elleebana. When you purchase a course from a Trainer please ensure you read and understand and agree to all of their terms, conditions and refund policies. All approved and certified Elleebana Trainers are listed on our website – Click Here
*this price is quoted for the first attendee only and travel/additional attendee cost apply
**Price is subject to change