Learning a new skill Is a choice that is without a doubt beneficial to you in any career path you choose to excel in.
Are you considering implementing a new service into your salon? Thinking of a career change and not sure where to begin? Are you using another brand and considering switching to Elleebana? We have many training options available that can cater to your personal needs and fit in to your busy schedule.
If you are busy with work or family commitments and are unavailable during traditional course times, you could consider enrolling into one of our ONLINE courses. At the Elleebana Academy, we offer the following courses through our Online Education platform:
Elleebana Lash Lift online
Elleebana Brow Henna online
Elleeplex Profusion Brow Lamination online
Elleeplex Profusion Lash Lamination online
Elleeplex Profusion Lash and Brow Lamination Combo course
Elleeplex Profusion Lash Lift Conversion course
Elleeplex Profusion Lash Lamination Conversion course
Elleeplex Profusion Brow Lamination Conversion course
Our courses include a product kit with everything you will need for your training, a very detailed hard copy manual and 3 months access to the online course.
Overwhelmed? Don't be, when you enrol in an Elleebana Academy's Online courseyou will be scheduled to attend a Zoom meeting with one of our Elleebana Master Educators who will walk you through the online content and guide you every step of the way. We will also schedule you into your second Zoom session once your Case Studies for assessment have been received. This is a one-on-one Zoom session, just you and your Elleebana Educator to receive feedback, further tips and tricks and technical advise on your Case Studies.
The Online courses available through the Elleebana Academy are unique in the fact that they offer students TWO face-to-face Zoom sessions to ensure you are competent and confident in both your study platform and your applications. Our education platforms see our Educators strive to guide you to develop to succeed in your training and as a qualified Lash and Brow Stylist in your salon.

If you are more of a kinaesthetic learner and would prefer to attend a FACE-TO-FACE training course the following Courses are available through the Elleebana Academy:


Elleebana Lash Lift course
Elleebana Brow Henna course
Elleeplex Profusion Brow Lamination course
Elleeplex Profusion Lash Lamination course
Elleebana Classic Lash Extensions Foundation course
Elleebana Classic Lash Extensions Advanced course
Elleebana Beginners Volume Lash Eyelash Extensions course
All of our face-to-face courses will see enrolled students receive a value-for-money product kit with everything you need to complete your training, a detailed hard copy manual, as well as your face-to-face training to provide you with the fundamental skills to perform each treatment with precision and confidence.

Want to know more about our Assessment process?
Our Brow lamination, lash lamination, lash lifting and classic eyelash extension courses require 5 successfully approved case studies before your certificate will be issued. Each case study will be assessed by one of our master trainers who will provide you with detailed feedback you can implement into your next treatment.

So which course should you enrol in?

If it is lash lifting you are interested in you may want to consider the following:

Is brow lamination a service you may consider implementing in the future? Are you looking for a vegan system? Are you looking for a system that works quickly?

If it is a fast system you are looking for and am not considering brow lamination then our Elleebana One shot system is for you. One shot lash lift system is loved globally for its fast-processing times and beautiful results.

Elleebana Elleeplex Profusion is a synergistic system designed for both lash and brow lamination. Gentle and vegan friendly, Elleeplex Profusion processing times are different than our traditional Elleebana Lash Lift system but the results are fabulous!

If you prefer online education, Elleeplex Profusion Lash and Brow Lamination Combo course is a great option to enrol. This course is cost effective and will have you performing both treatments confidently in no time.
Each course includes tinting training. However, tints must be purchased separately. We highly recommend Elleeplex Profusion Colour System.
Interested in Henna?

Elleebana Brow Henna Course offers two options: One day hands on course or Online. You will receive a product kit which contains everything you need to perform an award-winning Brow Henna treatment. Elleebana henna has 5 different colours you can customise to suit each client.


Would you like to learn Eyelash extension application?

Eyelash extensions are a very popular treatment. Learning this skill can be tricky but very beneficial to your business. It is always best to begin with a classic course before moving into volume. Classic will provide you with the skill to isolate and place a lash correctly and safely. Once you are feeling confident, finished your case studies and received your certificate you can then enroll into a volume course where you will learn how to make hand made fans and create those full and fluffy lash sets that most clients are looking for.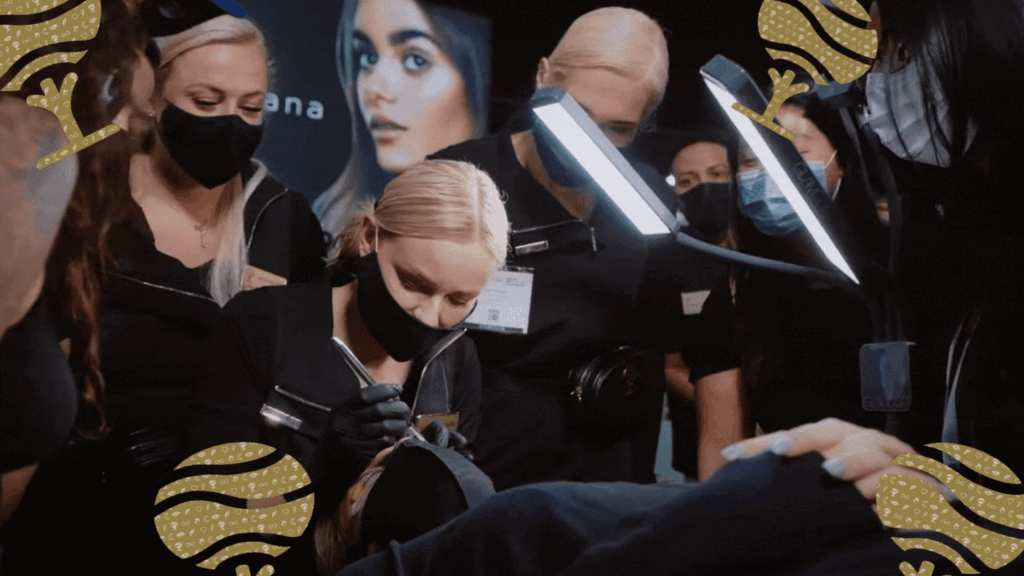 Enrolling is Easy! If you have opted for an Online Course you can access the Education section of Elleebana's website (www.elleebana.com) and click 'learn more' on your chosen option. If you scroll down, this page will explain the course overview, topics we cover, course inclusions, how the online program is structured, model requirements, important notes and course price. Once you have read through all the information you are ready to enrol! Scroll back up the top of the page and there will be 2 options, one for Australian students and one for the rest of the world. Australians will be able to register and pay immediately. However, the process is slightly different if you're overseas. You need to fill out your details and an Elleebana Educator near you will be in touch.
To find a hands on n in person training center near you, hover over the education tab and click on education calendar. This will give you the option to choose which course you are interested in and your location. Once you have entered these fields, all of the courses in your area will be available for you to see. You will need to contact the training venue directly to enroll. If you cannot find a training center near you, please email us at info@eximport.com.au and one of our friendly team will be in touch.
*This blog post has been written by Elleebana Educator, Amie Buckley.