Let's chat adhesives! With numerous options available, it's crucial to find the perfect fit for you and your clients, ensuring you feel confident in your product selection. While every step of a lash lift is crucial, the lash wrapping phase holds the key to stunning results! We are here to walk you through our three adhesive options for wrapping lashes; Elleebana Original Lash Lift Adhesive, Elleebana Stronghold Adhesive and our newest addition – Elleebalm Lami Balm Adhesive. Each technician will have their own preferences based on client hair types, experience level and familiarity – so let's discover which adhesive suits your needs best!
Elleebana Lash Lift Adhesive
Our Elleebana Lash Lift Adhesive, the OG adhesive that started it all, has become a fan favourite in the industry for a high-quality, reliable glue adhesive. Most of our Elleebana students start their lash journey using this product, as it is a great introduction to the options available. This is because the adhesive has a slower setting time, allowing students to have more workability in separating the lashes perfectly on the shield/rod. It is a dermatologically tested water-soluble synthetic polymer that has excellent film-forming, emulsifying and adhesive properties. When working with this product, it is recommended to work in smaller sections, to avoid overusing the product or potentially creating a barrier.
Elleebana Lash Lift Adhesive Features & Benefits:
High tensile strength and flexibility
Dermatologically tested
Vegan
Available in the original bottle and the 10ml Squeezetube for more applications
Open time: 3 months after opening
Hot trainers tip: The lash lifting adhesive requires a moment to become tacky as it begins its polymerisation process and achieves its optimal state for use
Elleebana Stronghold Adhesive
Elleebana released the Elleebana Stronghold Lash Lift Adhesive in early 2018, to offer more experienced technicians a stronger lash hold during the lash wrap process. It is important to keep in mind that Stronghold dries faster than the original adhesive, so it is recommended to work quickly, precisely and in small sections. This is a great option for securing stubborn lashes into place and for experienced technicians wanting to speed up their lash wrap process!
Elleebana Stronghold Adhesive Features & Benefits:
Provides a 10% extra hold on the lashes
Biotin and Keratin support the lashes during the lifting and chemical process
Dermatologically tested
Also available in a larger squeeze tube which allows more applications and reduced wastage!
Open time: 3 months after opening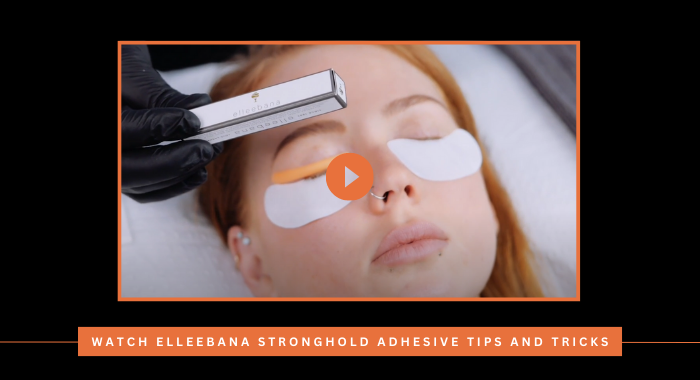 Elleebalm: Lami Balm Adhesive
If you are a technician that loves the flexibility of PERFECTING your wrap but wants a product that will allow you to do it quickly, The Elleebalm may be for you. Packed with plant-based amino acids, this revolutionary product has been developed with the purpose to create the perfect hybrid between what is most loved about adhesives and the benefits of balms on the market. Apply a small amount of Elleebalm to your rod or shield using a brush before starting the lash wrap phase using either a brush or your precision lifter tool.
Elleebalm Lami Balm Adhesive Features & Benefits:
This flexible and malleable balm rapidly adheres to the lashes, allowing for precise isolation and correction speeding up the application process
With its stronger hold and wax properties, Elleebalm offers a higher percentage chance of lashes staying adhered throughout the entire treatment process in comparison to other balms on the market
Packed full of hydrating vegan ingredients, the Elleebalm is formulated with lash health in mind
Unlike other Lami Balms on the market, using the Elleebalm will not require you to adjust processing times for either Elleebana or Elleeplex Profusion systems
20ml of product: Providing approximately 100 applications
Open time: 12 months after opening!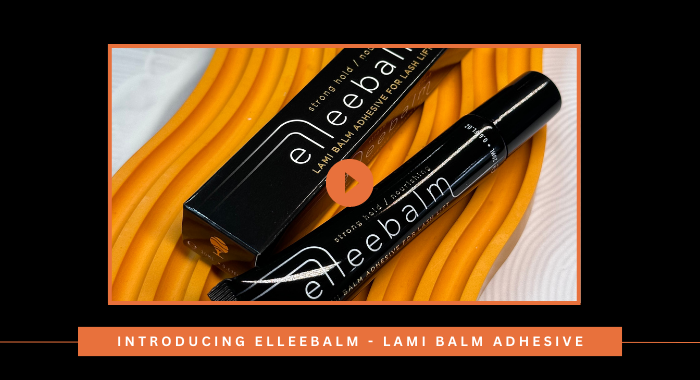 So there you have it! Whether you opt for the reliable Elleebana Lash Lift Adhesive, the Elleebana Stronghold Adhesive, or the innovative Elleebalm Lami Balm Adhesive, each product offers unique features to enhance your lash lift artistry. When choosing which adhesive to use; consider your client's needs, your working preferences and the desired outcomes. Remember, your choice of adhesive contributes to the magic of lash transformations. So go ahead, explore the possibilities, and let your lash-lift artistry flourish!