Hear ye, hear ye, hear ye!

CALLING ALL LASH AND BROW ARTISTS!
Let's talk COMPETITIONS!!

Push away the clouds of self-doubt, kick back those worry wizards and buckle in!
We are going to let you in on some INSIDE TIPS so you can SLAY your next competition.

Preparing for any competition can be a daunting experience – selecting your category, making your creation, choosing your model, and finding the best way to capture your talents – but there are ways to reduce your pre-comp stress!
We sat down with two of our Master Educators to learn more about their competition experiences and their pro tips.

Master Educator Kristy-Lee – Tell us about the competitions you have entered and what tips you have for artists?
Before joining the Elleebana family, I had never entered competitions for several reasons. I honestly didn't know there were so many, how frequent they are held or that you could enter them globally!
It was also the factor of self-doubt, which everyone of us experiences at some time.

Imposter syndrome is a real thing, so if you feel like it's only you, don't, we ALL feel it!
When I entered my first competition, it was for something I really enjoyed– lash extensions in the fantasy category!
I feel like trying out a category in a treatment application you are super confident with is a great toe dipper to start immersing yourself in the world of Lash and Brow competitions.
Competitions are not all about winning, there may be instances where you enter and may not place, I feel that is part and parcel of the competition world but embrace that for growth!
There may also be constructive feedback supplied to you from the judges – these industry pros have been doing this for many, many years! The feedback given can be implemented in future competitions and treatments.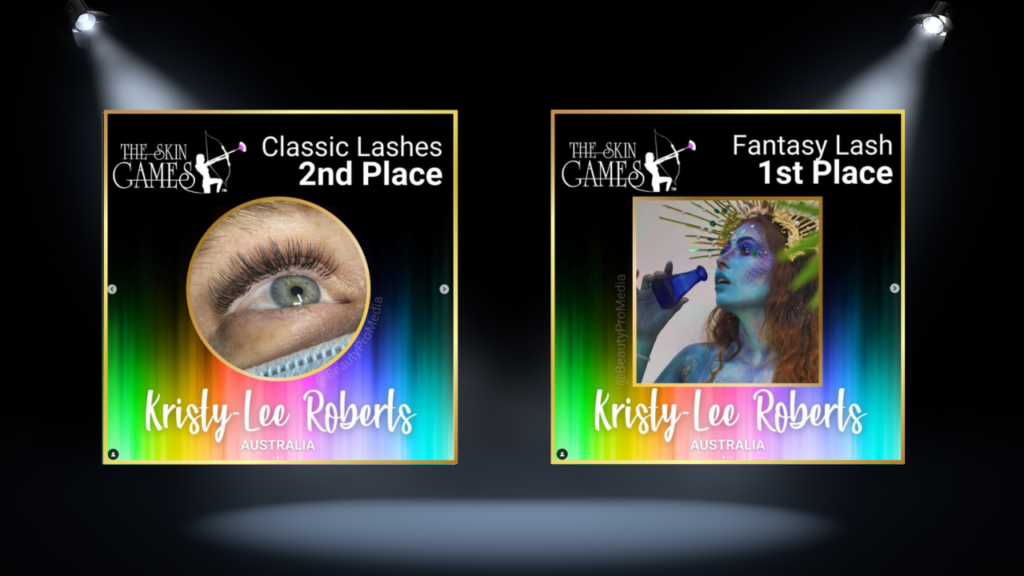 Master Educator Amie – How do you feel about competitions? What would be your advice for artists looking to enter?
Entering competitions is incredibly rewarding. If it is something you have been considering then my suggestion would be to just dive in and do it, what is the worst that could happen?

I have entered 3 competitions. The very first competition I entered was an overwhelming experience.
Brow lamination was my chosen competition, I booked my model, took all the required images, and submitted it along with the treatment notes requested. My first thought was 'should I do another model? What if my work isn't good enough?' I soon discovered that these were normal emotions to experience. Four weeks later I received an email saying that I came first place in the international artist Supreme Brow Styling PRO category and was filled with excitement.
In my experience in entering competitions, it is always best to read the terms and conditions thoroughly and follow the guidelines. Most commonly there will be a limit to how many images you can submit, specific angles that need to be showcased and no editing allowed. Clear bright images will not only help to showcase your work but will be more pleasing to the Judges.

My advice to you, ENTER the competition. You may come first, or you may come last, but you will feel accomplished and motivated to achieve bigger and better things!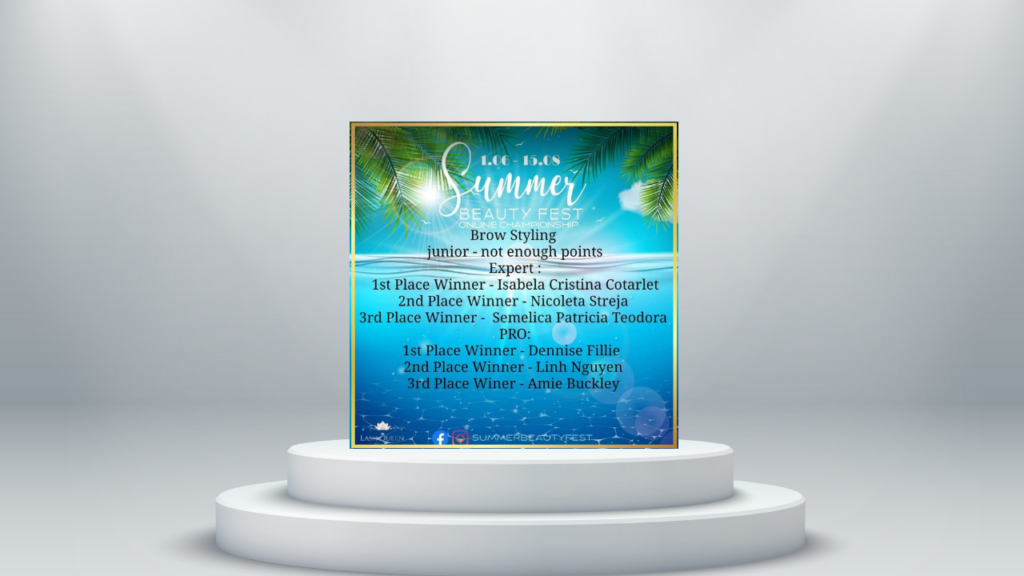 6 QUICK COMPETITION TIPS!

1. Be sure to read the terms and conditions of the category you enter THOROUGHLY, always be sure to read the image guidelines, due dates etc.

2. Check the rules and requirements to understand what editing is permitted
3. Enter in the appropriate level according to your skill set – there are varying levels from beginners, veterans, and educators!
4. Lighting! Ensure your lighting is bright, not casting shadows and the images are a high quality – grainy images are hard to assess and may see points deducted or disqualification.
5. Choose the right model! This can be tricky but keep in mind competition application can or may take a little longer, so by choosing your model wisely will help with a clean application, allowing a little more time and the overall result.

6. Lashes – opt for a model with a healthy lash line – no gaps!

When you take that leap, enter that competition and put yourself out there, you are not only showcasing your amazing talent to artists and industry leaders, you are inspiring, encouraging, and empowering others to do the same.