I have been dabbling in beauty trends and styles for as long as I can remember. Always being in the know at such a young age because my mom and aunt worked at cosmetics counters including Lancôme, MAC, SMASHBOX and Bobbi Brown. I have vivid memories of putting on a bright Pink Juicy Tube Lip Gloss and the confidence and excitement it gave me. When I was 11 years old, I got my eyebrows reshaped and waxed and it changed my life forever, I was OBSESSED. My Aunt was working for Anastasia Beverly Hills at the time which was then an up-and-coming brand. Anastasia was super popular in LA and known for shaping Celebrity Eyebrows, being that my Aunt Kristen had been trained by her I was starstruck and amazed at what she could do. She was a superhero, changing lives one set of brows at a time. Thereafter, anytime I could I was giving brow & makeup advice to anyone that wanted to listen, little did I know then that I was a little Brow & Lash Magician in the making. I grew up loving art and basically lived in the dance studio from 4-20 years old, and it never failed to be doing my makeup plus someone else's if we had a competition or a show we were performing at.
When I graduated in 2011 from Tacoma School of the Arts, I worked as a Receptionist at a Luxury Spa in Tacoma, WA. While I worked here, I fell in love with being in the Spa environment and I was able to learn even more than what I already knew. I learned how to do Spray Tan's and did makeup applications for clients from time to time. Fast forward two years later in 2013 I was living in Ocean Beach San Diego and working as a Special Education Assistant by day, a Starbucks Barista on the weekends and doing my esthetics program, at night Monday-Friday and living on no sleep and coffee. I look back and have so much gratitude for the hard work I put in and still wonder how I managed LOL! To be young 20 years old again…   In June 2014 I graduated from my Esthetics & Makeup Program top in my class from The Bellus Academy in San Diego, CA and also had a sweet little bun in the oven who is now 8, his name is Zayden. After graduating and getting my license I moved to Las Vegas in hopes to work on the strip at a luxury spa, however, realized how hard it is to get in at any of these places with being freshly licensed. Sephora was hiring for seasonal at the time and so naturally this worked really well with my schedule and all the free makeup and skincare was to DIE FOR. Sephora was focused on elevating its skincare presence so naturally, I was working towards an elevated position while educating the whole store on skincare lines, after I returned from Skincare Encore Training at Sephora University in San Francisco. I wanted to start focusing on services after being at Sephora for a year I decided it was time to find my calling. So, I started doing freelance work for Perricone MD, Clarisonic and Control Corrective Skin Care and got a paid apprenticeship at the position at Cherry Lash Lounge. Cherry was the busiest Lash Lounge in the Valley at the time and thanks to them I got the best training I could ever ask for as a new lash artist. While working in these settings, there was one thing with all of these jobs that had a common factor which was continued education. I really grew to love Education and how important it is to educate clients to give them a well-rounded experience that they could use in their daily lives for result-driven regimens. I was then given the opportunity to have an elevated position back in Washington at my aunt's business so of course, I went!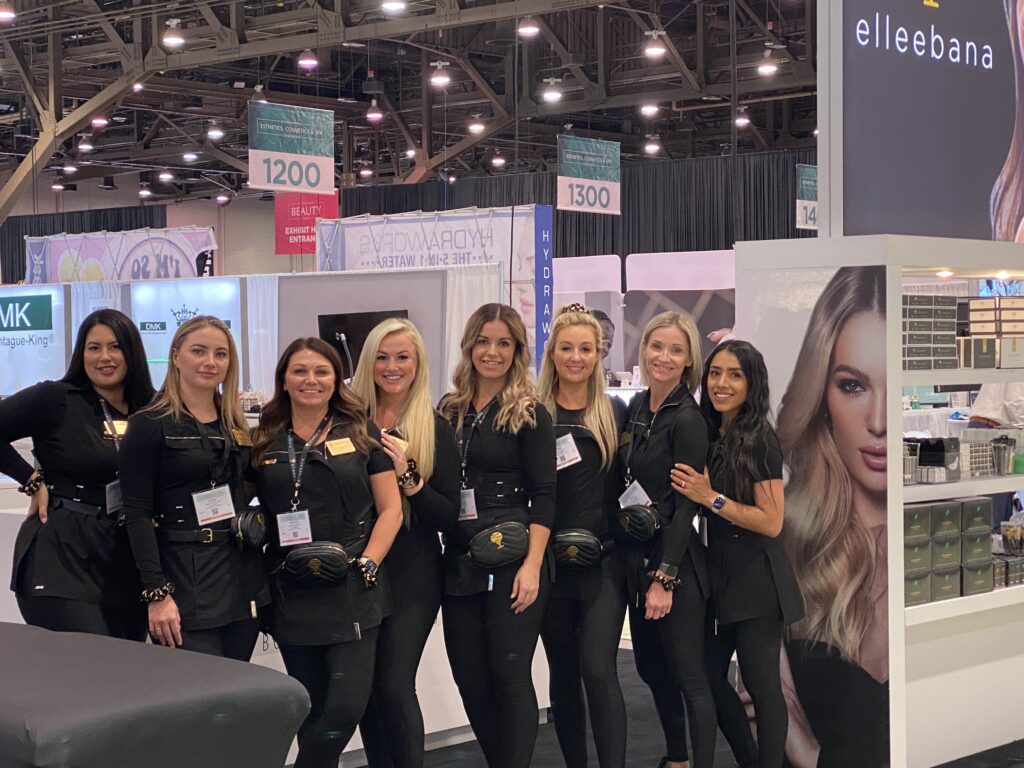 When I started working at XWAX in Tacoma, WA I branded the business's very own lash extension line and trained new employees in various applications such as Brow Shaping, Body Waxing, Lash Lifts, Lash Extensions and Product Knowledge. I loved my time here and learned so much and decided it was time to be on my own so I could have a more flexible schedule for my son. I really loved all the avenues that running my own business had to offer but I yearned to slowly stop taking clients so I could focus on building and Lash Training Program. I did all the steps necessary to start holding lash training but still taking a ton of clients and I really started to get burnt out. I really took the time to think and open my mind in maybe trying to find a corporate position as an esthetician.
One day I received a random email and I saw that my favorite Lash brand Elleebana was hiring for a Master Trainer at their USA HQ office in Chicago. Mind you, I hadn't even really started looking for a job yet and this kind of just fell in my lap. I felt like Harry Potter when he got his invite to Hogwarts. All the job requirements checked my boxes of everything I could ever want in a position. Coincidentally I had just gotten married last year and in June of 2021 my husband and I did our honeymoon here in Chicago and we absolutely loved it. You know when you go on vacation and you are like dangggg I could definitely picture living here… My husband and I talked about it and he was like were going to move to Chicago one day, I said yeah, yeah we will see. Then boom! It really happened for us! We basically spoke it into existence.
So, I packed up my car with a couple of bins of clothes, left my family behind to set a foundation and came to work at Elleebana USA HQ to chase my career dreams in February 2022. It has been everything I ever dreamed of as a position and I have learned so much since I started and I am so thankful to be here. I have grown in all ways and so excited to see my passion for education grow further and inspire many others along the way. I am looking forward to assisting Otto in Our Lash & Brow Lamination Mastery Class at LashCon, which will be a HUGE accomplishment for me. My family is now all together in Chicago and as happy as ever and I can't wait to see what the future holds for my career with Elleebana. I teach courses at USA HQ in Lash Lifting, Lash & Brow Lamination, Brow Henna and Lash Extensions.