At Elleebana we take pride in offering our educators a globally recognized, multi-award-winning program. The steps to become an Elleebana Educator are well respected in the industry. We nurture our education team with all the tools for success and we couldn't be prouder of our Elleebana Educator, Yevette Mendoza celebrating a milestone in her career.
Recently, Yvette successfully partnered with a beauty industry company that we truly admire; a company that has similar values and just like Elleebana has been shaping and influencing the beauty industry for decades. "Milady" is the industry-leading introductory textbook for Esthetics students enrolled in courses requiring up to 600 hours. Milady preps the beauty industry's future leaders with a learning experience that is required to pass their state boards.
The all-new Eyelash Curriculum released for 2022 on Milady's professional platform features the impeccable lash and brow skills of Elleebana's Educator, Yvette Mendoza. The Milady learning guides and resources have long been a source of education and upskilling, offering beauty professionals a path to success within their chosen field.
Yvette calls the experience a "big growth moment" for the beauty industry. "I think it makes us more well-rounded, it puts a spotlight on us, our treatments, in an industry where every state has different rules, it gives us hope, it's important to get licensed and certified for these things. Companies are now being represented, it's big growth for the [lash and brow] industry to be recognized." Students looking to dive deep into a career in the lash and brow world no longer have to go through school figuring it out for themselves. With the new addition of a lash and brow curriculum, students now have guidance, how-to's, and resources they can count on during their schooling. The curriculum includes Classic and Volume Eyelash Extensions, Eyelash Extension Removal, Lash Lifting, and Brow Lamination.
Opportunities like this don't usually fall into your lap, but Yvette believes that if you're in the right place at the right time, and if your heart stays true, opportunities will come to you. Yvette experienced a real pinch-me moment when she accessed Milady's website and saw her work featured on their newly released edition; "This is real recognition and made me really proud to know I'm in a textbook that is nationwide." The Elleebana Family is also extremely proud of Yvette's achievement. For us, her success is a big win for the industry, and we are honored to be able to celebrate this with her and share her story.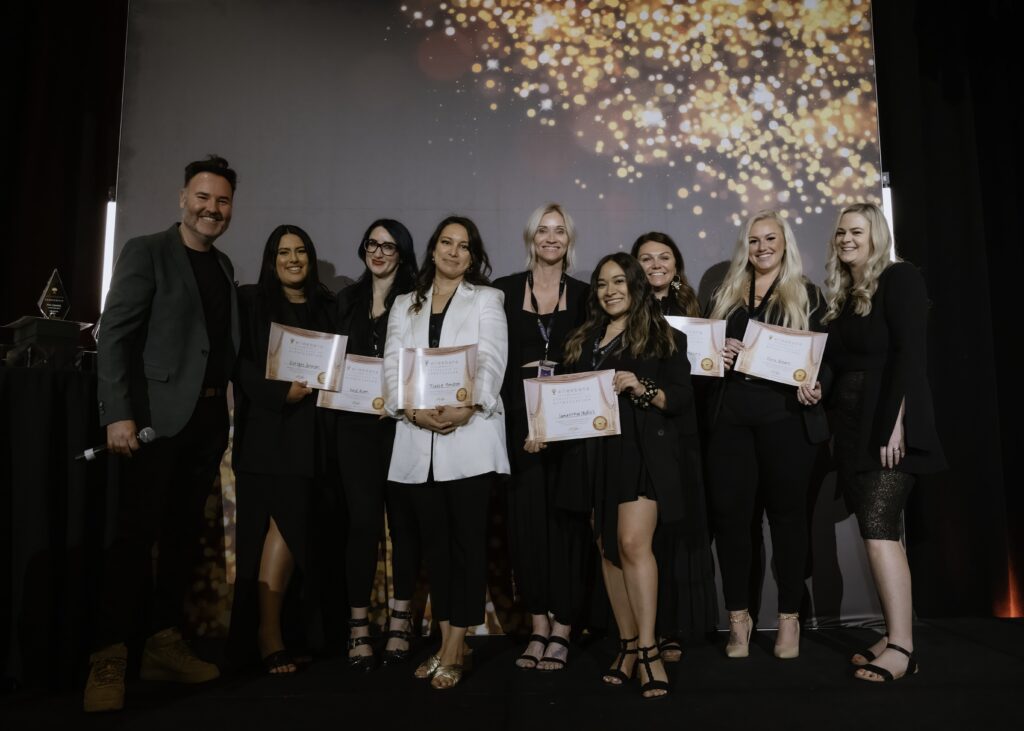 Has Yvette's story inspired you? Have you ever considered becoming an Elleebana Educator?
We are seeking truly dedicated educators whose passion for the lash and brow industry is earned through hard work, immersion, assessment, and dedication at the highest industry standards. At Elleebana, we expose our team to incredible opportunities and culture giving our educators a wealth of knowledge and guidance on their professional development journey.
Yvette is one of six Elleebana Lash Extension Educators in the USA, and has been with the brand since 2016. You can find her profile here, and learn about the many courses she teaches out of California, including Classic and Volume Lash Extensions, Lash Lifts, and Lash & Brow Lamination.
We uphold the position of being an Elleebana Educator as one of prestige, which requires our Educators to immerse themselves in the industry; we have exams, portfolios, interviews and bootcamps that they must attend and complete successfully during their application process.
If you are up for the challenge, we invite you to read the criteria here, apply and join The Elleebana Elite.