ELLEEBANA CLASSIC LASH EXTENSIONS ADVANCED COURSE
We would like to welcome you back
Elleebana would like to welcome you back to your Classic Lash Extensions – Advanced skills course. This course has been developed as the next phase in your learning and allows your knowledge and lashing techniques to be improved, perfected and developed beyond the basics.
We welcome any classically certified lash technicians to this class but ask that anyone who has not previously received their certificate for their classic lash extensions class do this before attending the advanced course.
We do not cover the topics from our foundations course in detail – only very briefly as we have the advanced techniques and skills to cover.
We deliver a comprehensive theory manual with myth busting sessions and a detailed understanding of the industry's hottest topics, chemistry, styling and together with some techniques not readily showcased in other training.
During your guided lash application, you will be assessed on all your basic skills as well as your advanced classic skills that have been delivered throughout the theory component of your course.
This application of your understanding to the practical side of your skill is a key element in our assessment phase to ensure you leave with the best possible knowledge retention and ability to lash like never before.
We also test your knowledge retention further with your exam so we ask that you bring your open mind and willingness to learn, take notes and test your skills.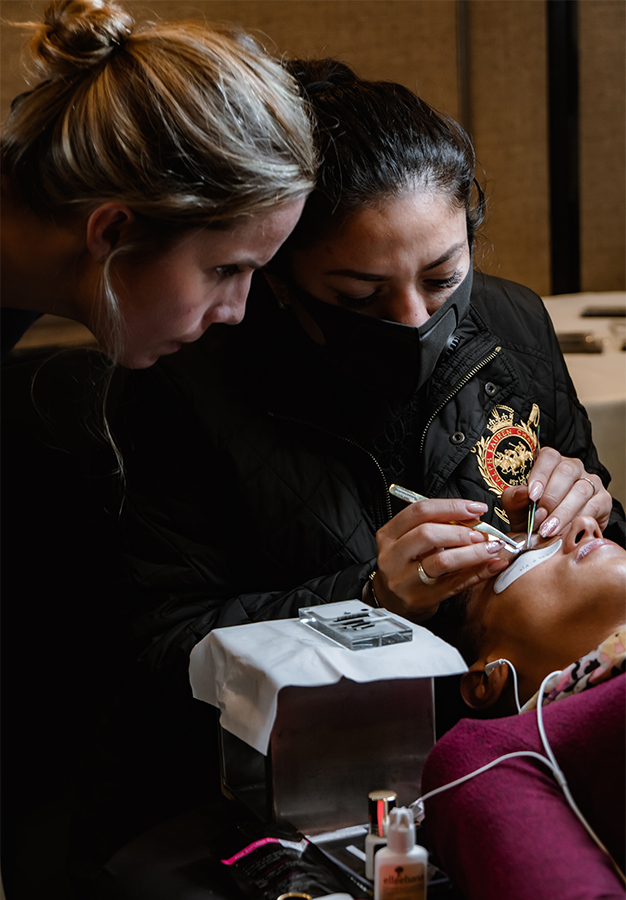 Topics we cover:
KNOWLEDGE:
• Your Body – and the impacts lashing has on your eyes, your hands, and your posture
• Masks, infection control and hygiene
• Your Products – the chemistry behind formulations of lash shampoos, cleansers, lash adhesives and other trending products on the market
• New Generation of lashing products and tools
• Your Styles – guides and aides to help you choose safe lash lengths and diameters
• Lash styles with attention to eye set, eye plane and eye shape
• Styling crafts with a variety of methods to choose your style and then how to map them.
• Premade Fans – help you gauge and understand what is safe when delving into the world of premade fan applications, what effects retention and how to market premade applications
SKILL:
• Adhesive control
• Advanced styling skills
• Asymmetry
• Zoning, layering and dark eyeline effects
• Lash equality and direction perfection
• Mixing curls
• Blending
• Taping techniques to create fuller classic lash sets
• Capping, stacking and candy caning
• Create visual differences to the shape of the eye from basic lash styling
• Lash with confidence
• Lash methodically and build your speed and technique
• Elleebana Primer
• Elleebana Eye Pads
• Glue Rings – Pack of 10
• Elleebana Bag
• Elleebana Makeup Remover 30ml
• Japanese Breathable Tape
• C 0.12 Mixed Tray
• D 0.12 Mixed Tray
• C 0.15 Mixed Tray
• C 0.10 Mixed Tray
• Clear Super Pro 5ml Adhesive
• Master Lash Palette
• Lash Cleanse Brush
• Lash Rinse Bottle
Course price:
$650*
*In-salon pricing plus travel fees if applicable
A non-refundable booking fee may apply and is included in the above-mentioned price; full payment is required to secure your position at a class. See your trainer's booking site for details by clicking here.
Combine Courses and save $100
Pair this Advanced Course as a 2-Day Combo Classic Lash Course with our Elleebana Classic Foundations Course.
Looking to complete two trainings in one? You can make it a two-day course with Classic Foundations on Day 1 and Classic Advanced on Day 2. You'll receive one full-sized Elleebana Classic Lash Extensions Kit plus an additional Advanced Lash Course Pack valued at $220. Course price for this Combo is $1200 (you save $100 by booking them together as a 2-Day course!).
Course Inclusions:
This course delivers an extensive array of new information, chemistry background from Cosmetic Chemist Otto Mitter, as well as some awesome new products that are fresh to the market. You will receive an advanced adhesive for use and you are allowed to use all the latest curls, diameter and types of lashes that you receive in your new kit on the day as well as have access to your trainer's stockpile of additional items should you need anything further.
Please bring with you your preferred tweezers for use.
You will receive over 12,000 lashes in your kit allowing you over 130 applications from the product you receive on the day. You will receive a certificate upon successful completion of your criteria assessment after the day of training.
Online Portal Course Inclusions:
This unique and results-focused educational online portal that you are able to access for three months after your course date provides you with a further 2.5+ hours of instructional videos, supportive techniques and revision of your learning content. The brilliantly mapped 31 break-out units allow your learning to develop along with your skills but also ease of referencing should something from your time with your educator have slipped your mind. We know how much there is to take in at a new course and often the review and reference helps to reiterate what you might have needed revision with. You can recall information such as lash types, curls and diameters, to facial assessment and styling simply by selecting the unit you need revision on. Some of the trickier elements of classic lash extensions applications that you might not experience on your first day but surface as you begin to see more clients are addressed in our brilliant "Lash Challenges" unit – here we review everything from shaky hands, flickering eyes to stickies on the eye pad and other common lash struggles.
Remember that with all Elleebana courses, your enrollment includes on-going support with your trainer, so if something isn't sticking, you can always reach out for continued questions and mentoring.
PLEASE NOTE: The online support videos included in this course are the same for both of our Classic Lash Extension Courses. If you have already taken our other Classics Course, please speak with your trainer about options for replacing this component.
Important times:
Our Classic Lash Extensions Advanced Skill class runs for 7.5 – 8 hours.  We will always do our best to stay on time and to our class structures.  We have a lot to cover and we are extremely passionate about you getting the most from this class so please be prepared with all that you might need.
Model requirements:
Students are required to arrange for one model that they will work on in class that can be available for you from 1:15pm through 4pm. If you are travelling to your trainer for the class, please discuss model needs with the trainer upon booking.
Click here to view the contraindications.
You are responsible for ensuring that your model is not contraindicated.
Important notes:
You can choose to combine this course with our classic foundation course making it a two-day course.  The content in these classes is very extensive and detailed; we encourage you to learn at your own pace and develop your skills when you are ready so you may prefer to book the classes separately so you can learn at your own pace.  This is the beauty of choosing to train with Elleebana, we understand that students all learn in different ways and we have adapted our courses and teaching skills to cater to all student's needs. We have found that information retention and understanding happens much better over a period of time with our helpful team of trainers and administration staff available to guide you through your lashing career.
We recommend that you become certified first in Classic Foundation, or have had a Classic Basics course before taking the Classic Advanced course. Please talk with your trainer about suitability for this course.
Please Note:
1. A non-refundable booking fee applies for each individual cancellation. Full payment is required to secure a student's position at a course.
2. We reserve the right to withhold issuing of a certificate until competency has been achieved.
3. All trainers in the United States are not direct employees of Elleebana. When you purchase a course from a trainer, please ensure you read and understand and agree to all of their terms, conditions and refund policies. All approved and certified Elleebana Trainers are listed on our website at the link just below.
4. Appropriate licensure is required to take this course. Your trainer will ask you to submit your cosmetology or esthetics license upon registering for this course. It is the responsibility of the student, not the trainer or Elleebana, to ensure that all state and local guidelines, laws, and sanitation practices are being adhered to in accordance with the law and state boards, and to ensure proper insurance is being secured for offering this service in your state.
5. We reserve the right to withhold issuing of a certificate until competency has been achieved, which is for the benefit of the industry and of the salon offering this service.
6. We request that if you are feeling unwell or have COVID-19 symptoms to speak with your Trainer and reschedule your training.
PLEASE NOTE: The online support videos included in this course are the same for both of our Classic Lash Extension Courses. If you have already taken our other Classics Course, please speak with your trainer about options for replacing this component.