ELLEEBANA EYELASH EXTENSIONS BEGINNER'S VOLUME COURSE
Two Day
Course Overview:
For over two decades, Elleebana has been recognized among the industry leaders in eyelash perming, lash lifting, lash and brow lamination, coloring, shaping, and in more recent years, offering comprehensive Beginner's Lash Extensions and Advanced Lash courses.
It is with this experience and know-how that we proudly bring you the Elleebana Lash Extensions Beginner's Volume Course.
This course is suited to the intermediate or experienced Classic Lash Extensions Technician and teaches the student the art of Russian Volume eyelash extensions, which shows techniques on how to create more volume by adding multiple eyelash extensions to one natural lash, giving your client a fuller and more dramatic set of eyelash extensions.
The art of volume eyelash extensions requires practice and is very specialized, but once you master the application and techniques many clients prefer having volume extensions compared to classic extensions.
This course is run over two consecutive days and includes product to the value of $378, a comprehensive and incredible instruction manual, and each attendee receives a certificate of completion.
Students are required to provide two models (one on each day).
Students should have a minimum of 6 months experience of classic lash extensions application.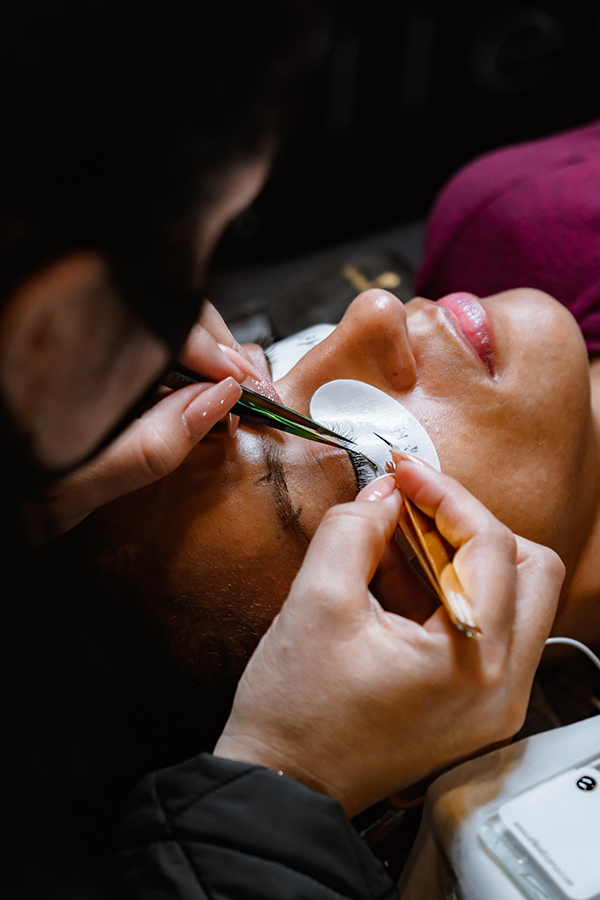 Topics we cover:
• What is Volume?
• Classics vs Volume
• Stacking and capping vs volume
• Russian Volume vs American Volume
• What products to use
• Lash Math
• Client's eye and lash health
• Technicians eye and body health
• Volume fan pick up techniques – 3 of the best methods
• How to choose the right fanning technique for you
• How to identify a good fan from an imperfect fan
• Narrow fans vs wide fans
• Premade fans vs you-made fans
• Fan attachment
• Applying an imperfect fan
• Practicing without a model
• Hybrid lashing
• Styling with volume
• Blending your sets
• Layering to get a smooth line
• Capping with volume
• Removal
• Photos and how to capture amazing ones!
Course price:
$1200*
*In-salon pricing plus travel fees if applicable
A non-refundable booking fee may apply and is included in the above-mentioned price; full payment is required to secure your position at a class. See your trainer's booking site for details by clicking here.
• Micro Brushes
• Micropore Tape
• I-Type Tweezer
• L-Foot Tweezer
• Curved Tip Tweezer
• Doe Foot Applicators
• Lash Rinse Bottle
• Adhesive Stickers
• D 0.07 Mixed Tray
• C 0.05 Mixed Tray
• C 0.07 Mixed Tray
• B 0.07 Mixed Tray
• Power Bond Clear 5ml Adhesive
• Elleebana Primer
• Elleebana Adhesive Remover
• Elleebana Makeup Remover 30ml
• Master Lash Palette
• Eye Pads
• Elleebana Lash Bag
• Makeup Sponges
Important times:
The art of volume eyelash extensions is something that certainly cannot be mastered in a day, there is a lot of detailed information and practice required when learning these techniques.
In the importance of ensuring Elleebana upholds a fantastic training experience for the learners, we have decided this is an absolute must to be spread over two days.
Our Elleebana Beginner's Volume Course duration is:
Day one begins at 9.30am and finishes at 5.00pm. Morning break at 11:15am for 15 mins and lunch break from 1:30pm – 2.00pm.
Day two begins at 9:30am and finishes at 5:00pm. Morning break at 10:30am for 15 mins and lunch break from 12:15pm – 12:45pm.
There is a lot of content to cover in this course and we recommend you bring a lunch or be prepared to order something in the area. Your trainer can advise you of lunch options upon discussing the class preparation with you.
Class structures will be strictly followed; however, some of the times may vary depending on your trainer and their start time.
Model Requirements:
Students are required to arrange for two (2) models that they will work on in class. If you are travelling to your trainer for the class, please discuss model needs with the trainer upon booking.
Model 1 at 2:00pm on Day 1 – model should be available until 4:45pm
Model 2 at 1:00pm on Day 2 – model should be available until 4:30pm
We are aiming to provide the highest standard of training when learning Volume techniques and we believe that this structure will give our students the best possible outcome and experience. This in turn will give students the skills and confidence to ensure on-going success, growth, and happy lash clients.
Click here to view the contraindications.
You are responsible for ensuring that your models are not contraindicated.
Important notes:
We offer this course with over 25 years' experience offering lash and brow services. The Elleebana lash extensions volume treatment is one of the fastest on the market, so if you have previously trained with another brand, you might find some similarities between brands. We ask that you come with an open mind as some of even the most basic techniques can be taught differently across brands, and our comprehensive Lash Extensions Volume is sure to offer a deeper understanding of lash extension treatments than ever before. We don't leave you to your own devices – we guide you through your treatment, carefully perfecting your techniques and understanding of the application. You are welcome to contact us and your trainer after your day of learning with any questions or feedback that you might have.
Please Note:
1. A non-refundable booking fee applies for each individual cancellation. Full payment is required to secure a student's position at a course.
2. We reserve the right to withhold issuing of a certificate until competency has been achieved.
3. All trainers in the United States are not direct employees of Elleebana. When you purchase a course from a trainer, please ensure you read and understand and agree to all of their terms, conditions and refund policies. All approved and certified Elleebana Trainers are listed on our website at the link just below.
4. Appropriate licensure is required to take this course. Your trainer will ask you to submit your cosmetology or esthetics license upon registering for this course. It is the responsibility of the student, not the trainer or Elleebana, to ensure that all state and local guidelines, laws, and sanitation practices are being adhered to in accordance with the law and state boards, and to ensure proper insurance is being secured for offering this service in your state.
5. We reserve the right to withhold issuing of a certificate until competency has been achieved, which is for the benefit of the industry and of the salon offering this service.
6. We request that if you are feeling unwell or have COVID-19 symptoms to speak with your Trainer and reschedule your training.